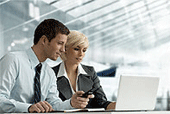 The VQF is the leading, largest, officially recognised self-regulatory organisation (hereinafter: "SRO") pursuant to the Federal Act of 10 October 1997 on the combating of money laundering and the prevention of the financing of terrorism in the financial sector (hereinafter: "AMLA ").
Supervisory system in Switzerland for the combating of money laundering and the prevention of the financing of terrorism:
Association under the terms of Art. 60 et seq. of the Swiss Civil Code (SCC) , recorded in the Commercial Register of the Canton of Zug and enjoys the official recognition of the Federal Financial Market Supervisory Authority (FINMA) as an SRO pursuant to Art. 24 AMLA . The VQF SRO exercises legally prescribed supervisory functions towards its members (hereinafter: "VQF SRO members").
The concept of the AMLA (also see more detailed description of the supervisory system in Switzerland) envisages that financial intermediaries in the so-called "alternative financial sector" (also known as the parabanking sector) should be able to create organisations in their own mutual interest which set out in concrete terms the implementation of their duties pursuant to the AMLA for their sector, control member compliance with duties pursuant to the AMLA and impose sanctions and measures in the event of non-compliance.
In the VQF SRO, members have a direct contact point of reference with an organisation that is thoroughly versed in the specific problems faced by the industry sector. The VQF SRO is active throughout the whole of Switzerland and across all parts of the parabanking sector. As the oldest and largest SRO in the parabanking sector, the VQF SRO employs specialists with many years of experience from all parts of this sector, carries out periodic audits on VQF SRO members, trains VQF SRO members in matters relating to the AMLA and also represents their interests with regard to amendments to the AMLA. The VQF SRO is officially recognised, regulated and supervised by FINMA, which is why this supervisory system is referred to as (legally and officially) controlled self-regulation.