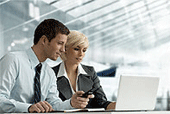 In addition to its supervisory capacity as an SRO pursuant to the AMLA, its role as an Industry Organization for independent Asset Managers (BOVV) according to the Collective Investment Schemes Act and with its auditing services in accordance with the provisions of financial market legislation and the Code of Obligations (CO) VQF provides further services concerning legal consulting for financial intermediaries and other persons trading in goods pursuant to the AMLA.
Financial intermediaries mainly need support to determine whether an activity is subject to the AMLA, or with matters that refer to other provisions with regard to financial market legislation. In addition to this, VQF is a qualified partner concerning other topics with regard to financial markets, for example cross border risks or how to implement sanction list screenings. For this purpose VQF can also count on the know-how of selected partners. Since FINMA has expanded its enforcement to protect the Swiss financial market, a thorough analysis has become necessary to find out what the corresponding legal duties and permissible limits of business activities are.
As of 1st of January 2016 the legislator has implemented new rules for persons trading in goods concerning cash money transactions. These rules are not fully in line with the rules set forth for financial intermediaries. However they are very similar. From the first public discussions of this topic on, VQF has been involved in the legislative process. Therefore VQF comprehensively assists persons and companies trading in goods and accepting cash money above a certain threshold and set up reliable compliance processes and provide all necessary staff trainings, as well as conduct the necessary annual audits.
VQF has a straight forward cost structure For extensive advisory services or company trainings, VQF also offers individual fees agreements.