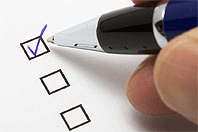 All VQF seminars are constantly updated in accordance with the latest state of knowledge
I. Persons subject to training
Both basic training and advanced training seminars are aimed at all persons who are active in the field of the Anti-Money Laundering Act (AMLA) (see Art. 46 SRO regulations), i.e. persons who:


exercise financial intermediary activities pursuant to Art. 2 Para. 3 AMLA; or
are entrusted with compliance with duties pursuant to Art. 3 et seq. AMLA; or
belong to the member's special internal department (VQF doc. no. 907.1).
II. Time limits for compliance with duty of training
Basic training must be completed by the employee in question within one year of admission into the VQF SRO, or of entering into financial intermediary activity or from the assignment of an AMLA function.
III. Training goals
The main goal of training is to ensure that each participant is aware of the duties imposed by the AMLA and is in a position to comply with and correctly implement these duties at all times. At the same time, members must be kept up to date, in a practical manner, with the latest jurisdiction, insights, developments and trends in the entire AMLA field.
IV. Details
Basic Training 2018/2019
The topics of the basic training are very versatile. This seminar informs you about the basic principles of anti-money laundering regulation in the Swiss and the international environment, about the various aspects of the membership as a member of VQF, and on the particular due diligence duties according to AMLA ant the VQF SRO regulations. Please find the detailed programm here.
Seminar fee: CHF 600 plus VAT for members, CHF 700 plus VAT for non-members, including coffee breaks and lunch
Duration: 9am to 5pm
Advanced training 2018/2019
This seminar provides information about the current developments in the financial market regulation and about the most recent amendments to the AMLA and its implementation in the VQF SRO regulations. The detailed program can be found pdf here (105 KB) .
Training fee: CHF 500 plus VAT for members, CHF 600 plus VAT for non-members, including coffee break and buffet lunch
Duration: 9am to 12pm (From 8.30 am informal welcome coffee)
V. Certification
After attending a seminar and on passing the final test (only basic training), participants are awarded a personalised certificate of participation as proof of compliance with their duty of training.